Customer Reviews
Write a Review
Ask a Question
Filter Reviews:
kids
stroller
doona
car seat
penny
thing
baby
daughter
22/02/2020
Amanda N.
United States
WE LOVE OUR DOONA
I searched high and low for the PERFECT stroller and car seat set for four months, finally I stumbled upon the doona on an Instagram ad and it was perfect! I love in NYC and am always on the move, my doona is so easy to travel with and super cute we're always getting compliments on how pretty and compact the stroller is. What I love is the way it folds into a car seat. The Uber drivers are always so impressed by my Donna, 4 out of 5 drivers have asked me to show them the link for an unborn child. One driver was so impressed he called his wife and told her he was returning the stroller they already had at home!!! So long story short but the Doona! It's amazing the handling is super smooth I glide on these NYC streets. On the city bus I'm able to close it and put it on a seat next me me and it stays put, on the train it fits in corner and it's not in the way like other bulky brands. I wish the handle was longer for my husband who's 6'1 but he makes do. We LOVE the Doona!
03/02/2020
Natalya E.
United States
Satisfied customer
I absolutely love!!! I live in an apartment complex on the 3rd floor! The Donna is light and convenient as I haul it up and down the stairs!! As a second time mom I knew this round I didn't want to carry around an average car seat! I love the fact that the wheels swivel and are easily managed! Totally worth the investment! My newborn fit comfortably and snug with the cushion inserts! Overall the Donna is perfection!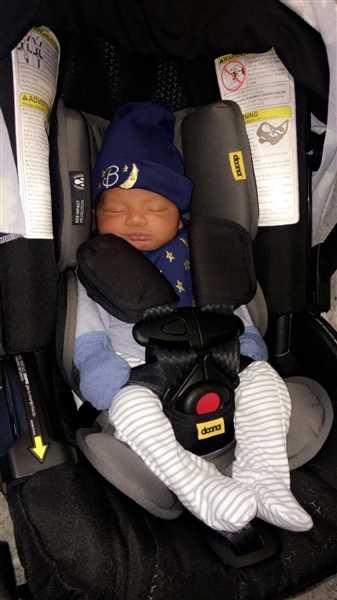 03/02/2020
Wesley L.
United States
Great for after c-section
I got this just for ease, not knowing that it was perfect for after a c-section. Its weight isnt too heavy but the ease of transition from carseat to stroller helped so much!!
02/02/2020
KT J.
United States
Life Changing
Imagine carrying your normal infant car seat into a store and to your demise they don't have shopping carts so you lug 30-some pounds all around the store on one arm. It hurts just thinking about it huh? Well with Doona goodbye to that! The instant car seat to stroller feature will change your life. Doctor office visits, quick store runs, picking up the older kids from school, you will never have to struggle walking around carrying your car seat again! I will never go back. Doona for life!