Customer Reviews
Write a Review
Ask a Question
Filter Reviews:
stroller
ease
canopy
babies
price
colors
effort
canopy colors
09/01/2020
Gabriel K.
United States
Super Affordable and Easy to Change!!
Changing out colors for different babies was super easy and quick. The Canopy snaps off with little effort and the new one slides on with ease. At this price I will keep changing canopy colors as changing out the Canopy makes it look like a whole new stroller!
18/02/2020
Brittany
United States
Cute but color will look weird after a while...
So when I bought the stroller I LOVED the blush pink color and decided to buy.. After a while it was getting real faded and not very much like a pink. I washed it only once and now it looks like a faded pink and always looks dirty. Im looking into buying a red or even a black. Snapping on the canopy is a little hard to use but you will get it in eventually.
12/02/2020
Vanessa P.
United States
Realistically NOT easy to change
This site doesn't allow you to post real reviews. But I'll keep trying because I'm keepin it real. In order to replace the canvas cover with a new cover, you have to get the plastic bar loose first which was actually no easy task. Once you get the plastic bar loose you can easily slip on the canvas cover but they don't tell you that getting the plastic bar off is a bit of a struggle. And their YouTube video conveniently leave that part out.
Dear Vanessa, when removing the canopy fabric from the canopy frame, you will need to pull the canopy stay out of the canopy clip on one side. Please be aware that sometimes one side might be more stubborn and require more effort. If that's the case, try the other side to see if that's easier. Don't be afraid to pull hard, the plastic components are hard to break and they are replaceable.
11/02/2020
Vanessa P.
United States
Ugghhhh
Okay. Don't know what the other reviewer is talking about because the canopy doesn't just easily snap on and snap off. We had to get a screw driver and actually put some effort into getting the plastic bar loose in order to switch out the canopy for the new color. Also, unimpressed with how the extra pieces came shoved in a box with no plastic covering or directions of how to make the switch...I was wondering if it had actually shipped from Doona or if we got a cheap fake because of how it arrived.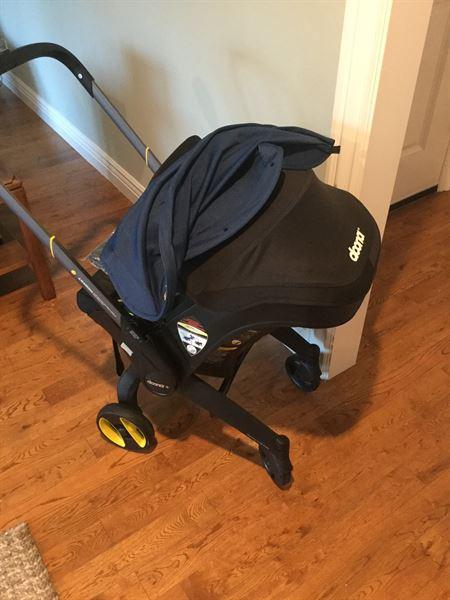 Dear Vanessa, thank you for sharing your feedback about your Doona Car Seat. We really appreciate your input. We share your comments with management so that we can address any issues that arise. We have taken your comment about how your product arrived and are putting together packaging so that the canopy and shoulder pad set are combined in a sealed package. As you noticed, the canopy frame set can be stubborn when disassembling. Usually one side is easier to take apart than the other. It does require a bit of force to pull apart, so don't be afraid to use a little muscle or a screwdriver. You can always contact our customer support team about any issues you are having with your Doona.